General view of Oasis21
Sectional view

Spaceship-Aqua

Field of Green

Bus Terminal

Galaxy Platform
Oasis21 consists of rooftop Spaceship-Aqua, Field of Green on the ground level, Bus Terminal on the first floor, and Galaxy Platform and shops in the basement level. The symbol of Oasis21 is Spaceship-Aqua, a representative landmark of Japan, and Field of Green is a precious space for recreation in the heart of the city. Also, Oasis21 is Nagoya's transportation hub, possessing a Bus Terminal where a large number of bus lines stop in addition to direct connections to Sakae Station on the subway and Sakaemachi Station on Nagoya Railroad. Getting to nearby facilities is simple both above ground and below via accessway, escalators, and elevators.
Spaceship-Aqua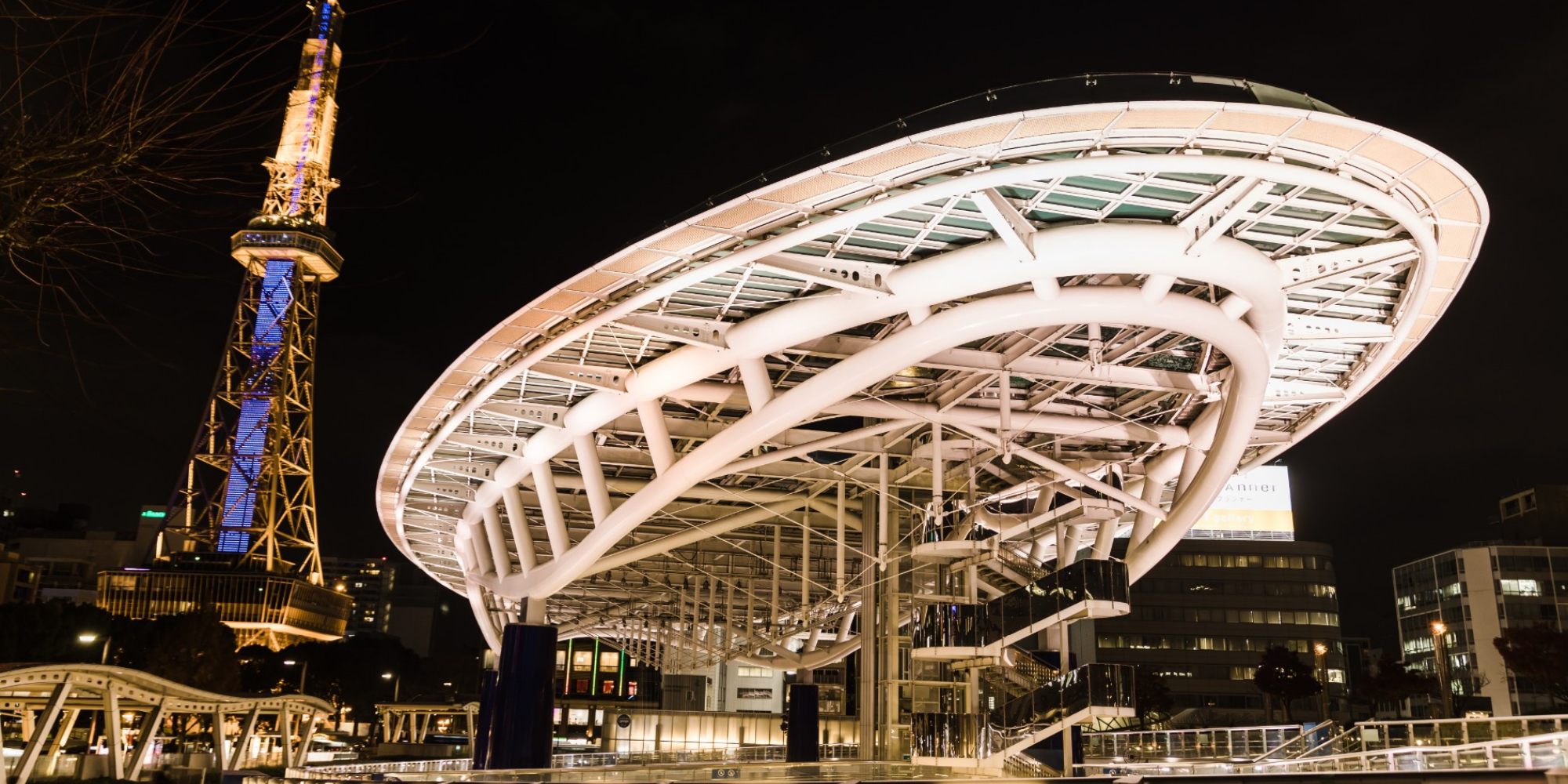 The Symbol of Oasis21
Water flows on the upper surface of the glass like a thin veil, projecting countless ripples of light below. A pathway runs along the outer rim, allowing visitors to take a midair stroll 14m above the ground. Visitors can also enjoy the magical atmosphere created by seasonal and special limited time lighting displays. It is one of Japan's most photogenic spots.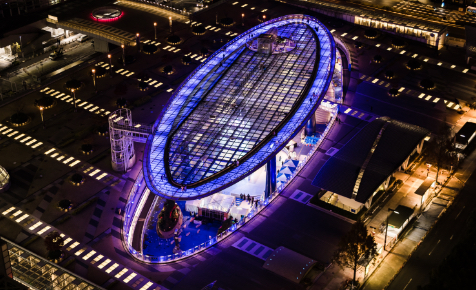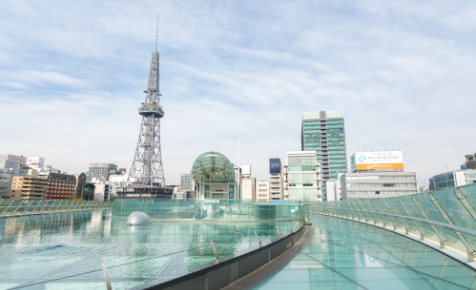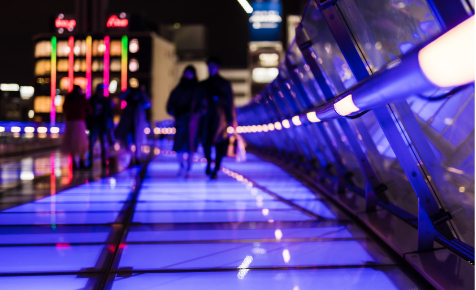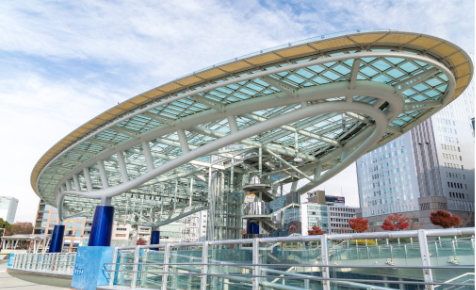 | | |
| --- | --- |
| Hours of operation | 10:00 a.m. - 9:00 p.m. |
| Height | 14m above ground, 22m from the basement level |
| Area | 2,700m2 (106m x 36m oval) |
| Water surface area | 1,700m2 |
| Water depth | 6-10cm |
| Water weight | 150 tons |
| Pathway (one lap) | 200m |
Field of Green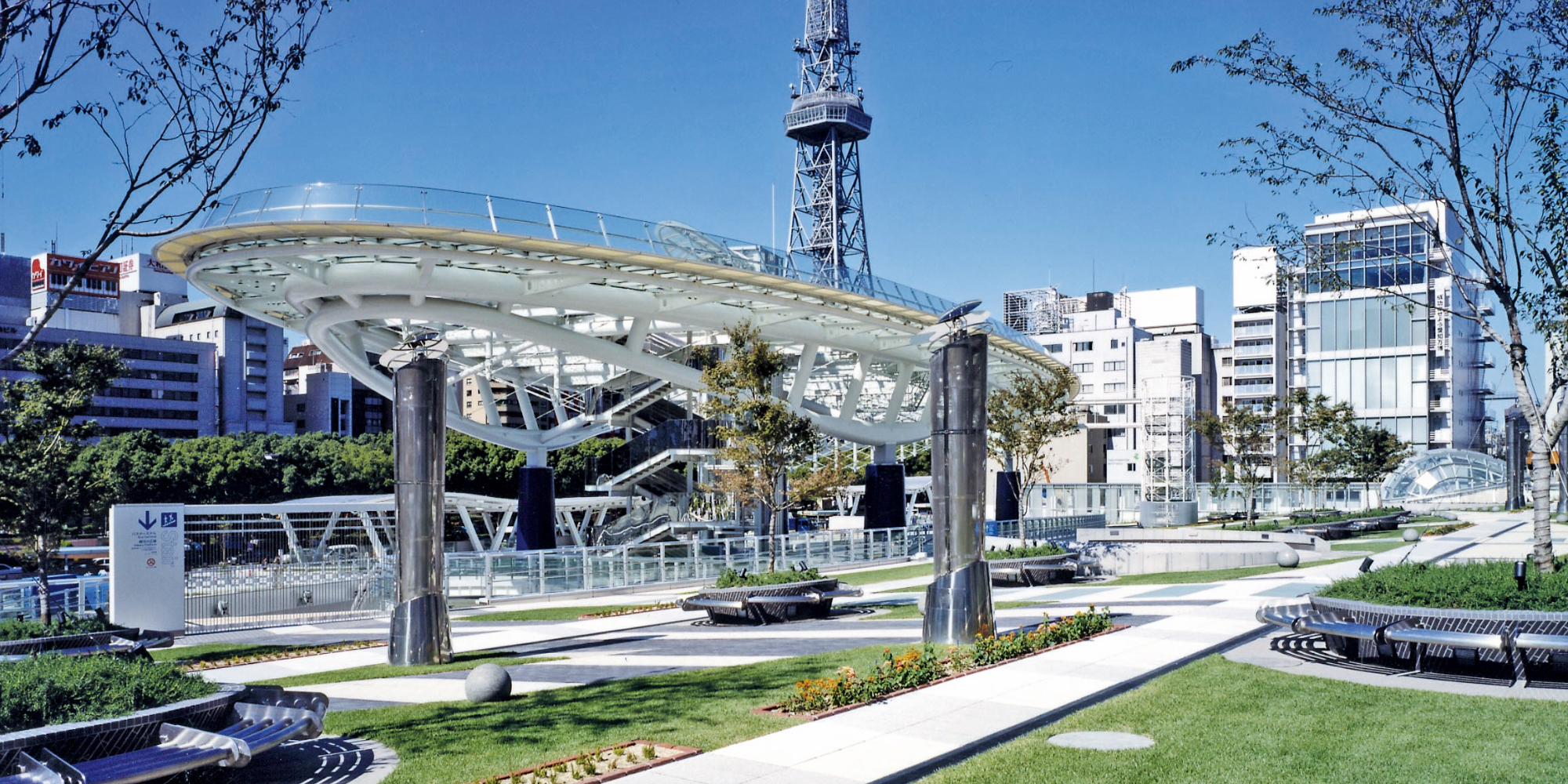 Oasis21's Recreation Area
A precious grassy field in the heart of the city, Oasis21's recreation area is green in all seasons and features beautiful cherry and maple trees as well. All kinds of can people relax here as they please, be they families, office workers, or tourists. For those who want to take photogenic pictures at Oasis21, we recommend a composition looking up at Spaceship-Aqua from the southwest side of Field of Green.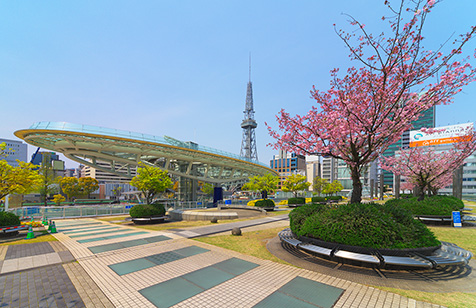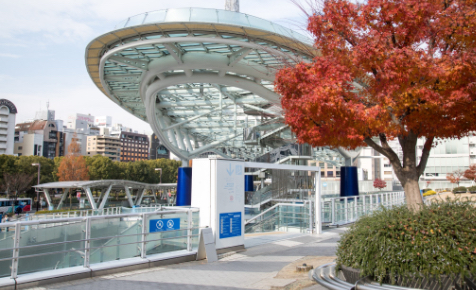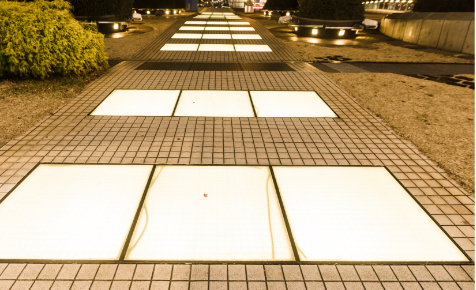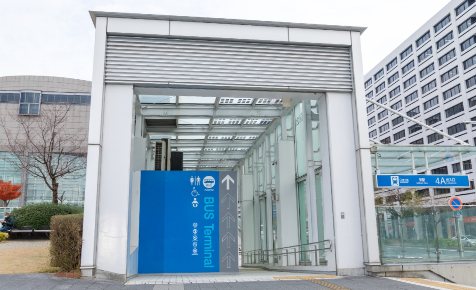 | | |
| --- | --- |
| Hours of operation | 24 hours/day |
| Area | 14,500m2 |
| Field area | 4,000m2 |
| Main plants | cherry trees, maple trees, and grass |
| Restrooms | 2 mens, 2 womens, and 4 accessible |
| Misc | On the east side of the park there is a deck leading to Aichi Arts Center and the NHK Nagoya Broadcasting Center. |
Bus Terminal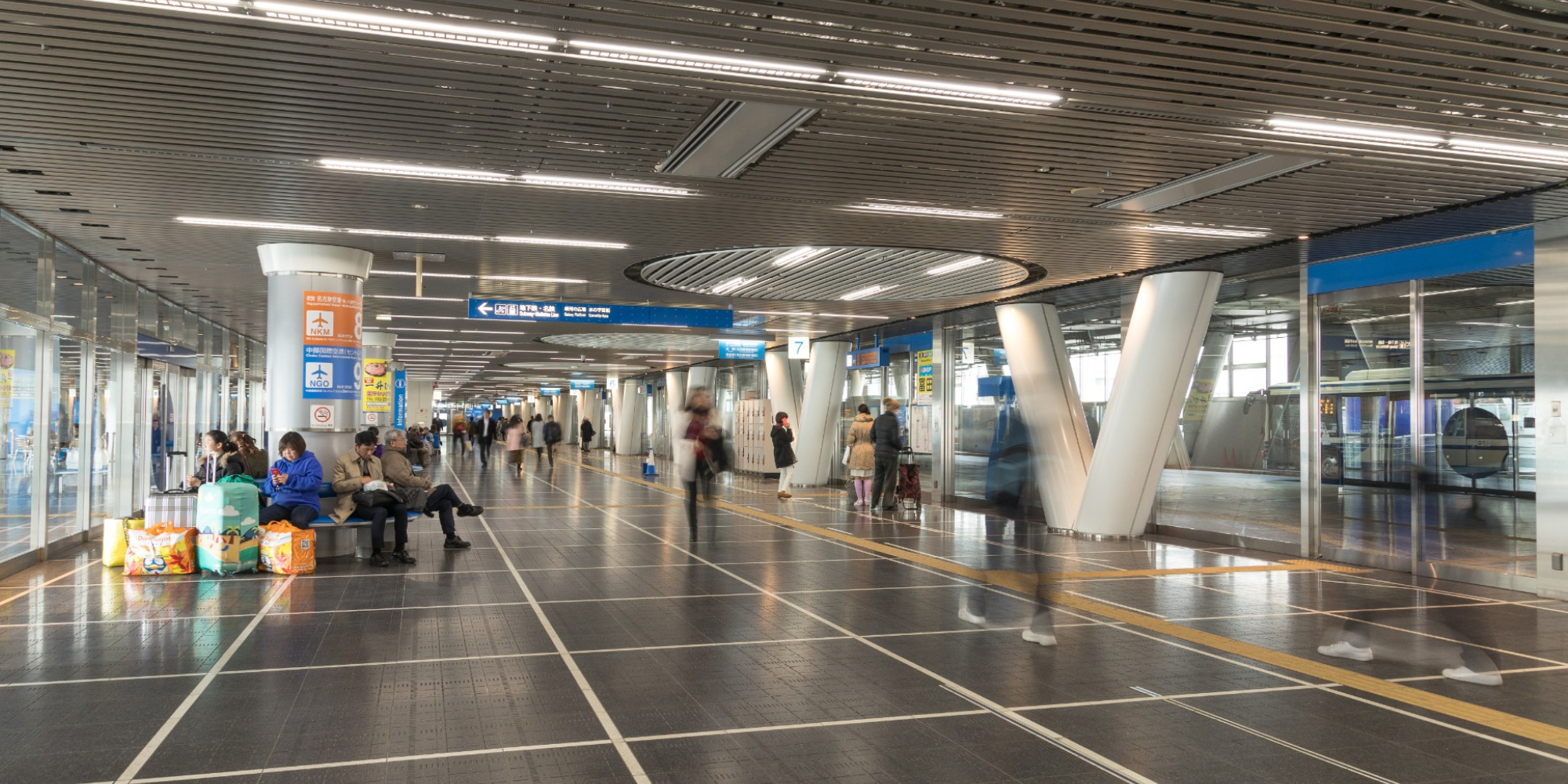 Nagoya's Transportation Hub
As Bus Terminal hosts both local and intercity buses along with direct connections between Oasis21 and the subway at Sakae Station and Nagoya Railroad at Sakaemachi Station, it is a convenient location for both intercity and intracity transportation. Not only Bus Terminal contain spacious rest areas fully equipped with heating and cooling, but also there are coin lockers,allowing visitor to spend their waiting time pleasantly.
Hours of operation
5:45 a.m. - 12:00 a.m.
Restrooms
2 mens, 2 womens, and 2 accessible
Coin locker fees
(6:00 a.m. - 11:30 p.m.)
¥300 (S), ¥500 (M), ¥600 (L)
Area
6,200m2
Bus services
City Bus, Meitetsu Bus, JR Tokai Bus, Mie Kotsu
Contact information for bus service providers
Galaxy Platform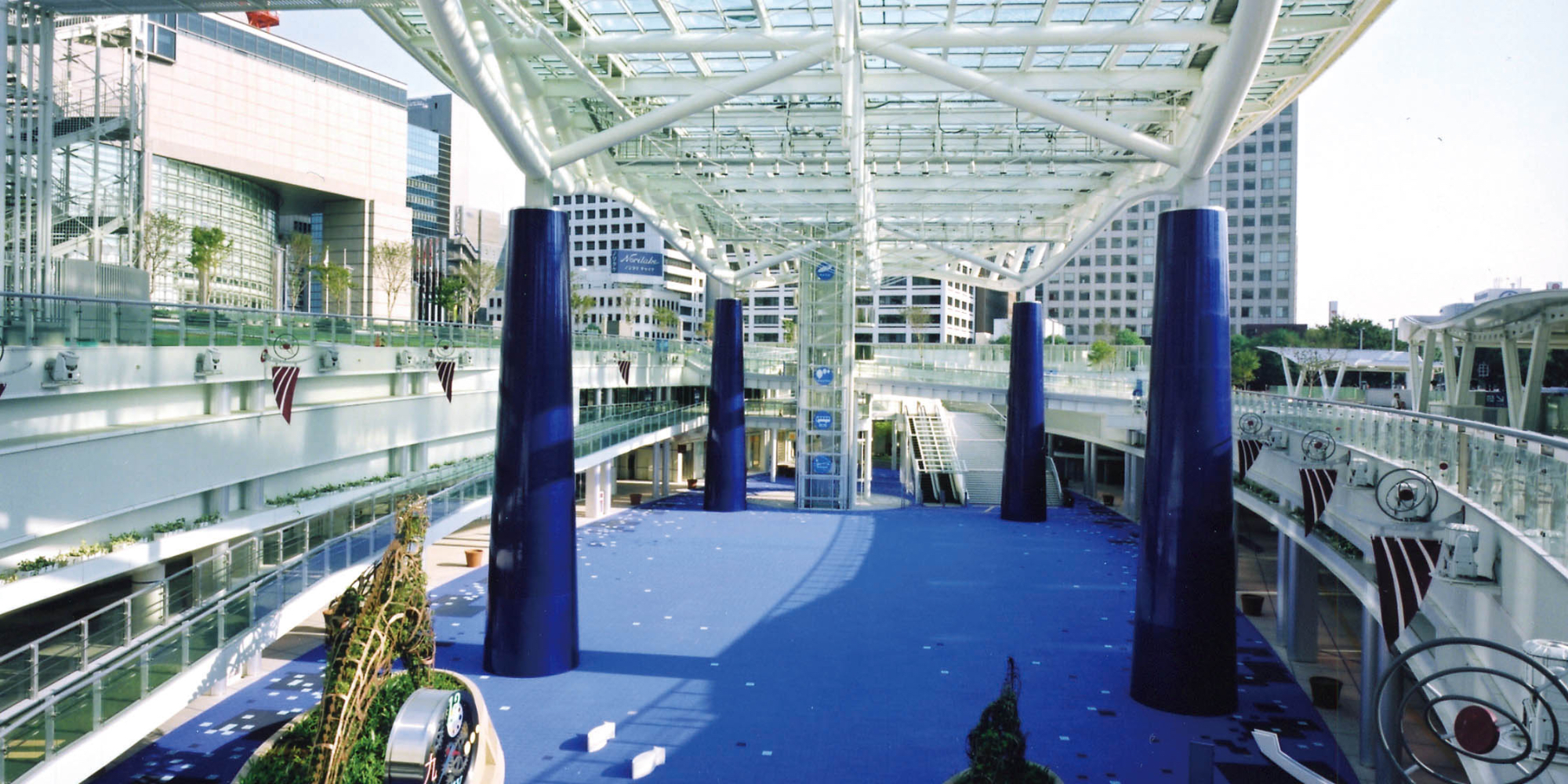 A Multipurpose Space with a Wide Variety of Uses
Every weekend Galaxy Platform is filled with many visitors who come to enjoy the various events held there. Around the platform tables and chairs have been provided so that guests can relax. As there are direct connections to Sakae Station on the subway as well as Aichi Arts Center and Central Park, not to mention the fact that a large digital signage and a tourist information center "Oasis21 i Center" provide information about Nagoya's attractions, the platform also makes a convenient starting point for a visit around the Sakae area.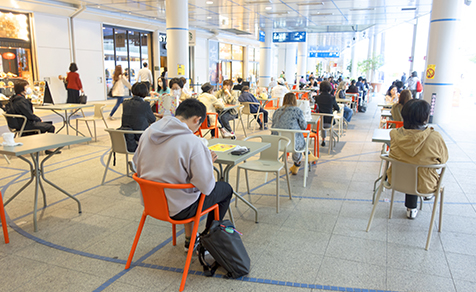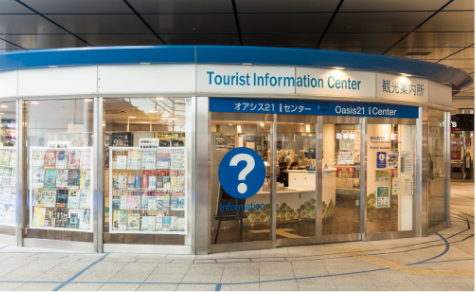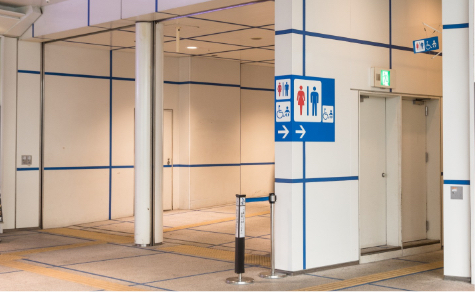 Hours of operation
6:00 a.m. - 11:00 p.m.
Oasis21 i Center
Hours of operation 10:00 a.m. - 20:00 p.m. (Product sales until 6:00 p.m.)
/Phone Number 052-963-5252
https://www.nagoya-info.jp/
Restrooms
3 mens, 3 womens, and 5 accessible (1 with support for ostomates)
Nursing room
located in the disaster command center
Diaper changing stations
located in accessible restrooms
Free Wi-Fi
NAGOYA FREE Wi-Fi (can be used throughout Oasis21 i Center area)
Coin locker fees
(7:00 a.m. - 10:00 p.m.)
¥300 (S)
Area
3,600m2(open air)